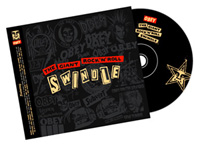 Giant Rock N Roll Swindle


various artists


Since its conception in 1989, Shepard Fairey has brought the Obey Giant campaign from an innocent student's artistic expression into a global experiment in phenomology. The newest addition to "Giant Art" is a collaboration between Shepard Fairey and Fork In Hand Records. The Giant Rock N Roll Swindle combines the images that Shepard has incorporated into his underground movement and music that also falls into the underground category.

The CD contains twenty songs covering a variety of styles; The Bouncing Souls, The Suicide Machines, The Lawrence Arms, Jello Biafra (No W.T.O. Combo), Avoid One Thing and Big D and the Kids Table give the compilation its punk rock twist. Bands such as Modest Mouse, The Hives, The International Noise Conspiracy and The Icarus Line bring an indie rock vibe to the CD. There is a good ammount of electronic music covered with BS2000 (members of the Beastie Boys), Peaches and Gonzales. Instead of putting 20 bands that all sound simliar Fork In Hand tried to change things up by combining all styles of underground music.

In addition to the 20 tracks on the CD and the amazing artwork and packaging, there is a multimedia CD-Rom with The Obey Gaint Manifesto, a photo gallery of "Giant Art", interviews with Shepard Fairey, information on all the bands, and instructions in how to join the sticker and spraypaint campaigns.
1 Mindlikewater -Dark Star
2 Hives -Supply And Demand
3 Bs2000 -Wait A Minute
4 Peaches -AAXXX
5 Big D And The Kids Table -LAX
6 Lawrence Arms -100 Resolutions
7 Avoid One Thing -Lean On Sheena
8 Drexel -Newnew
9 Suicide Machines -Perseverance
10 Softball -Zero
11 Gonzales -So Called Party Over Here
12 No W.T.O. Combo -New Feudalism
13 International Noise Conspiracy -Up For Sale
14 Favorite Atomic Hero -Time Bomb
15 Smackin' Isaiah -Send Off
16 Lot Six -Freezin' Scene
17 Icarus Line -Keep Your Eyes Peeled
18 Bouncing Souls -Private Radio
19 Helms -Smallest World In The World
20 Modest Mouse -White Lies, Yellow Teeth